Please see below picture for caption competition details.
From SMH 11/11/2018
Refusing to call an election, while running what looks an awful lot like an election campaign: it is not the fairest of dinkums.
But then little about Prime Minister Scott Morrison's Queensland bus tour is.
First of all, the bus touring part of it seems to have been exaggerated.
As reported this week, Morrison and his team skipped key legs of the road trip to travel via plane, leaving an empty bus to drive on, down ghostly Queensland highways, a political metaphor just waiting to be deployed, although as it turns out, it is almost too obvious to use.
More SMH >>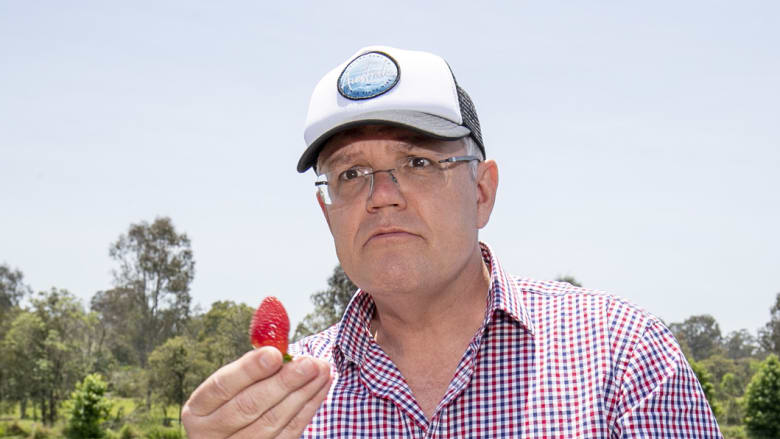 Your caption, please - to win $40, $20, $10 prizes for three best captions voted by readers: see below
The AAP picture above defeated your correspondent's caption skills. The picture is too reflective to leave unremarked.

For our overseas readers, the chap with the cap is the Prime Minister of Australia, that is, leader of the Australian government. Seriously. Help us out, and win yourself a prize, or recommend this page to a friend who might be interested.
Anyway, if you care to, and we would certainly appreciate your attention in this respect, to enter the competition, please send your amusing, sardonic or otherwise appropriate entries for best caption to secretary@CureCancerParty.com.au with subject line "Strawberry". One sentence makes an entry. As many entries as you like, but each clearly separated on your message/s. We don't spam email. If we don't get more than half a dozen entries, we'll call off the competition, and post that news here.
In any case, we'll post the entries as received. Entries close on Christmas Eve. Then the entries will be posted on this site for readers' votes for each. Voting ceases after Australia Day. Most popular entries then posted, the others remaining available to view. Prizewinners notified before St Valentines Day, ie, 14 February 2019, and prizemoney remitted before 22 February 2019. This posted by Anthony Monaghan, Narrabeen, Remembrance Day 2018.
Anthony Monaghan guarantees the integrity of the competition process.